Federal Labor Home Affairs Minister Clare O'Neil says immigration needs fixing
For her promotion, she can partly thank former Labor frontbencher Kristina Keneally, whose disastrous attempt to shift from the Senate to the lower house cost her party a once-safe seat and created a vacancy in the cabinet-level Home Affairs portfolio.
"When I was in opposition, we would spend long periods of time trying to craft up these stories that would be of public interest, and now stories like that pass across my desk 50 times a day," she laughs.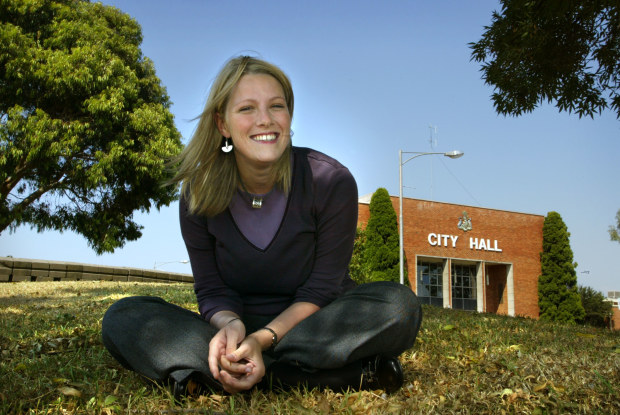 'Clare the mayor'
O'Neil joined the Labor Party at age 16, and her first taste of public office came shortly after, when at just 22 years old, she was elected to the Greater Dandenong Council in Melbourne's south-east.
One year later, she was dubbed "Clare the mayor" by the local press when she became the youngest female mayor in Australian history, and served out a three-year term on council.
But O'Neil tells me she doesn't come from a family of dyed-in-the-wool Labor supporters.
"They were political, but they weren't party political," she says of her parents, Lloyd O'Neil and Anne O'Donovan.
Lloyd was a prolific publisher of books about Australia, touching on topics as diverse as art, history, political biography, sport and nature.
"He grew up in a time when the cultural cringe was the big dynamic here in Australia," O'Neil says of her dad, who died when she was just 11.
"Things that were Australian were sneered at, and it was his life's work to shift that dynamic and to celebrate Australian authors … and to tell the story of our country not as some sort of antipodean outpost but as a strong, modern, beautiful country."
Her mum started her own publishing business, specialising in cookbooks and women's issues. She also founded the much loved The Age and The Sydney Morning Herald Good Food Guide.
O'Neil has four half sister's from Lloyd's first marriage, and an older brother from his marriage to Anne.
The family lived in Richmond and Hawthorn in Melbourne's south-east. O'Neil moved into the area she would soon come to represent when she attended Monash University.
She left the council to head to Harvard's Kennedy School of Government on a Fulbright scholarship to study public policy. The prestigious program is reserved for over-achieving students from around the world. O'Neil spent a summer working at the New York Stock Exchange, before starting a consulting job at McKinsey. The elite consulting firm, she admits, was a steep learning curve.
"I look back on it now with humour at how little I understood," she says. "The first time I went into a business that I was working with for McKinsey, I remember going behind the front desk behind reception and just looking around at all these people and thinking I have no idea what these people do every day."
Living in the NT
O'Neil and her husband, who is training to be a psychiatrist, met through mutual friends when they were in their late 20s, after O'Neil returned from the United States
"We got together on New Year's Eve, and just had this amazingly passionate romance."
The pair moved to Nhulunbuy in the Northern Territory's north-east Arnhem Land region, where O'Neil helped local women start their own businesses, boosting self-sufficiency in the region.
While in the community, one of Australia's most disadvantaged, the couple were foster parents for a newborn premature baby for four months.
"It's probably the only time in our lives where we've had the space. We just wouldn't be good candidates now because we both work very, very long hours.
"This is just something that as a community in a country, we're just not doing very well at the moment. There's all these kids that can't live with their own families for various reasons and the foster care system doesn't get great outcomes often for the kids that are in it."
I ask O'Neil whether she still has any contact with her foster child, whom she asked not be named. She says any contact would be more for her own benefit than the girl's, who would have been too young to remember O'Neil.
"I really would love to be able to be a foster parent again, but it's probably not going to happen until my kids are adults."
That won't be any time soon. O'Neil and Brendan have three young kids – Elvis, nine, Louis, six, and, Greta, who at just 18 months old was likely the youngest attendee at September's Jobs and Skills Summit in Canberra.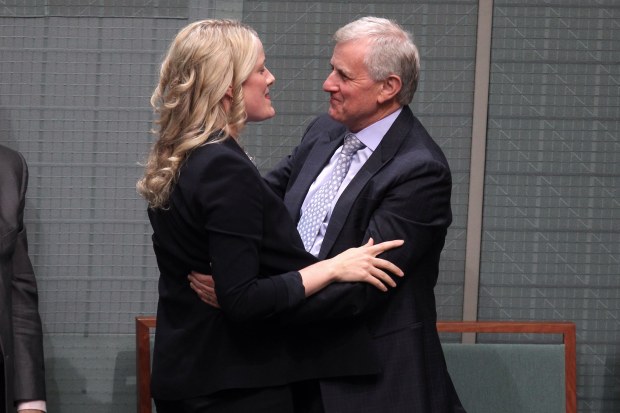 Stepping up
The retirement of former Labor leader Simon Crean from his safe seat of Hotham created the vacancy that would see O'Neil enter parliament at the 2013 election.
Monash City councillor Geoff Lake initially won prelection for Hotham, but was axed as Labor's candidate weeks later when old stories surfaced about him berating a female councillor 11 years earlier. Faced with a News Corp feeding frenzy, then Labor leader and prime minister Kevin Rudd moved fast to dump Lake.
O'Neil, then 32 and caring for an eight-week-old Elvis, hadn't put her hand up to run in the initial ballot, but got the call-up from Labor bosses.
O'Neil held the multicultural seat comfortably on polling day, despite suffering a 6.7 per cent swing, as voters delivered a harsh verdict on chaos of the Rudd-Gillard era and gifted Tony Abbott's Coalition a thumping majority in parliament.
"It was bittersweet," O'Neil says. "I was pretty consumed by the question of how a Labor government had done that to itself and brought itself to unnecessarily early end, essentially because of personal conflict."
Struck by the short-termism of the country's political scene, O'Neil and another first-term Victorian MP, Tim Watts, published a book in 2015 called Two Futures, which proposed a set of changes to revitalise both the Labor Party and Australian democracy.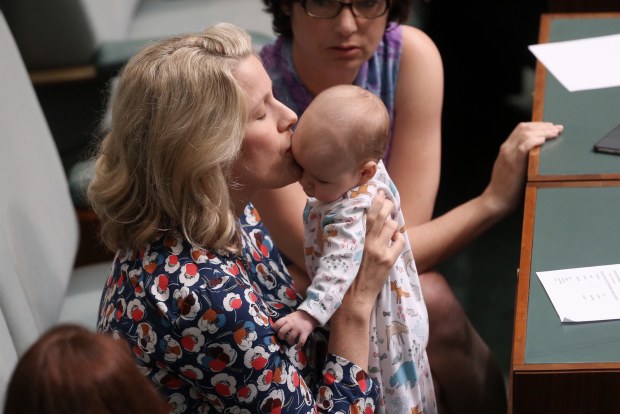 "I hope that some of the 300 to 400 people who read it actually got something out of it," she jokes.
I ask O'Neil whether she still supports some of the bolder proposals she put forward as a fresh-faced MP, including allowing members of the public to determine what gets asked during question time.
Now in her fourth term, O'Neil says she no longer holds her earlier view that question time wasn't a great accountability measure, though she still believes most observers find the spectacle of politicians arguing with each other alienating.
"I feel as a minister very much held accountable by question time, that is the forum where anything that slipped in my portfolio, I'm gonna get hammered about it."
O'Neil says the increasing proportion of women holding elected office has improved Canberra's culture.
"I certainly see as more women coming to the parliament, who tend to have a slightly different way of problem-solving, you do see the dynamic shift and you don't see as much brutality," she says.
After Labor's shock loss at the 2019 election under Bill Shorten, O'Neil, then in her third term in parliament, sounded out the prospect of running to be Anthony Albanese's deputy.
She says her decision to consider running came about through a combination of her frustration over another election loss and the need to have more women in leadership roles.
"We're the first major party to have 50 per cent of women in our caucus. That's really a great part of our culture and history to have women in senior roles. That requires women to step forward into senior roles and that's what I was doing at the time."
After pushback from factional bosses, O'Neil ultimately opted not to throw her hat into the ring, conceding she never had the numbers in caucus.
Immigration review
The Home Affairs portfolio will fall firmly into the national spotlight later this year when the government receives its review into the broken immigration system.
The department told O'Neil and her colleague, Immigration Minister Andrew Giles, that Australia had a backlog of almost 1 million active visa applications on hand and not enough resources to process them.
O'Neil says fixing the immigration system is like rebuilding a plane as it flies.
"We can't press pause and stop migration for a year while we sort out the system. The reason past attempts to fix the system failed was because previous governments were trying to build a visa processing system around the broken policy framework. Governments in the last decade haven't done anything about the broken policy framework."
The review is likely to recommend a radical overhaul to labour market testing, potentially axe skilled occupation lists, and slash the number of visa sub-categories, which stands in the hundreds.
Some recommendations are likely to be fiercely contested by unions – a key constituency for Labor – which are generally more sceptical of migration than business groups.
But O'Neil pushes back on the idea that there is a division between workers and employers over immigration.
"The unions would be generally in fierce agreement about the fact that the system's broken. They don't think labour market testing is working well, and they don't think the temporary skilled migration income threshold is working well.
"In migration there is huge unanimity about what's not working, and so I actually see the potential for big change here."
As we near the end of our lunch, the restaurant fills with patrons who've knocked off work early to enjoy a drink and soak up some sun.
But there's no such respite for O'Neil, who heads back to her office. It may be Friday afternoon, but for the Home Affairs Minister, there's always more work to be done.
The bill
Melissa, 5 Eaton Mall, Oakleigh, Vic
Piccolo latte, $4.50
Coke, $4
Trio of dips, $17
Saganaki, $16
Kolokithokeftedes, $16
Village salad, $9
Beetroot salad, $18.90
Total: $85.40
link