As the Cuban exodus continues, Biden adjusts immigration policy | Cuba
For almost six years the US embassy in Havana has lain silent in the withering Caribbean sun. Tiles have fallen from its facade, the fence has rusted and the awning of the consular section has been shredded in the fierce winds off the Florida Straits.
Last year, though, a new blue awning appeared and US state department SUVs began to arrive. And then, last week, queues of Cubans appeared outside, as the embassy resumed full immigrant visa services for the first time since 2017.
Abel Alonso, a cardiovascular technician from Miami, waited in the nearby park with his parents-in-law, Percida and Bildo. "It all depends how fast they issue a visa," he said. "But they have an appointment and I hope they will be at home with us in a month."
The return of full consular services comes as Joe Biden tries to stem the latest migration crisis on the southern border of the US. The president has announced that 30,000 migrants from Cuba, Haiti, Nicaragua and Venezuela will be allowed to legally enter the country every month.
In the past year 250,000 Cubans – more than 2% of the island's population – have been detained after attempting to cross the US border illegally. Most migrants from the island travel overland from Central America, but significant numbers attempt the perilous crossing by boat, with 300 picked up in the Dry Tortugas national park near Key West last week. The exodus shows no sign of tailing off.
Biden has said that those attempting to cross to the US illegally will now be stopped, strengthening Trump-era policies that have turned away migrants from Haiti and the rest of Latin America, but – until now – not Cubans.
Migrants from the island have long had privileged access to the US, but in recent years those privileges have gradually been whittled away. In 2017 Barack Obama ended the so-called wet foot/dry foot policy that gave any Cuban who managed to put a foot on US territory a route to residency (in contrast with Haitian migrants, who were routinely returned home no matter where they were detained).
Another blow came with the closure of the US embassy's consular section after 26 officials reported falling ill after mysterious debilitating "sonic attacks".
The Cuban government unambiguously denies any involvement in the alleged attacks, but the closure meant that Cubans wishing to apply for legal entry to the US had to go instead to Guyana on the north coast of South America.
Cristina Suárez used that route to bring her teenage stepdaughter to the US.
"Because of the pandemic there were few flights," she said. "In the end we paid about $6,000 [to get her to Guyana]. That cost excluded a bunch of people whose family cannot pay that sort of money."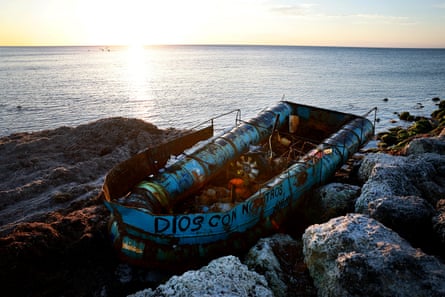 Meanwhile Cuba's already moribund economy nosedived during the pandemic, and the Trump administration used the moment to strengthen the 61-year-old US economic embargo and exert "maximum pressure" on the island's communist government.
Queues for food and medicine appeared. In July 2021, rare mass protests flared – only to end in mass arrests. In November 2021, Nicaragua opened its doors to Cubans and large numbers flew to Managua to begin the journey north, aided by coyotes – people smugglers.
Rosa Miriam Elizalde, vice-president the Cuban Union of Journalists, wrote last week in Mexico's La Jornada that the US's "maximum pressure" policy on Cuba had only led to "chaos" on its own border. "Instead of taking to the streets, 250,000 well-educated and well-resourced Cubans left the island to fulfil their dreams somewhere other than a bullied Caribbean island," she wrote.
Alejandro Amaro is one example. In 2019 he received a visa to complete a master's degree in Latin American literature in Mexico. But when Cubans started flying to Nicaragua, he crossed the US border in Mexicali with his wife and two friends "to get ahead of the wave", paying a coyote $650 a head.
"I knew I wasn't going to return to Cuba and I never felt comfortable in Mexico," he said. After nearly two weeks in US detention, he was released to pursue a claim of political asylum.
Like many Cubans, he went to Hialeah in the Miami metropolitan area, where friends found him off-the-books work for a telecommunications company.
Amaro is one of those referred to by Alejandro Mayorkas, the US homeland security secretary, last week: "Immigration judges have a backlog of more than 1.7m cases, and we have more than 11 million undocumented people in our country, many of whom work in the shadows."
Last November, US and Cuban officials met to resume deportation flights that the pandemic had halted. For the US, these are an important tool to deter migrants, but furious returnees pose potential risks for the Cuban authorities. No flights have yet departed, although Cubans attempting to cross by sea have long since been repatriated.
Meanwhile in Cuba, people continue to tell one another stories of friends and relatives making their way to the US. Cuba's GDP remains 8% below pre-pandemic levels and inflation has taken hold.
In December, Cuba's president, Miguel Díaz-Canel, gave a speech to the island's national assembly, saying: "2023 will be a year of struggle and hope." Meanwhile in Miami, Amaro said he wished he had waited to travel legally, that he is struggling with two badly paid dead-end jobs for little money, but "at least here, I've got hope".
link